Small business loans for veterans.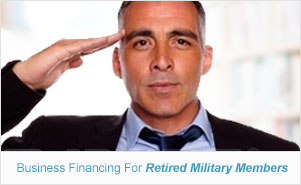 Have you or your spouse retired from the U.S. Armed Forces and want to start a small business? Applying for a business loan for veterans at MilitaryFinancial.com can get you on track to cover all your business's start-up expenses. If you have caught yourself dreaming of what it would be like to be your own boss, all you need is a product or service, yourself, and MilitaryFinancial.com! A business loan for veterans could finance an existing local bike shop, a popular franchise recently shown on "Shark Tank", or a new online storefront - any business you can imagine. Whether your business needs to invest in a new user-friendly website, hiring more employees, or branching out to a new location - a veteran business loan provides the cash you need to boost your future profits.
Breakthrough your business's first few years of financial instability with a business loan designed for U.S. veterans.

Start Loan Application »
Now that banks and other traditional financial institutions offer less appealing small loans with high interest rates (if they offer a loan at all), it's easy for small business borrowers to feel defeated. However, MilitaryFinancial.com boosts veteran moral. Offering access to fair interest rates and upfront terms, these loans provide veterans and their families cash to finance business ventures without tricks or traps.
Upon approval of your loan application, you can expect cash quickly - often in two days or less! Use the online application to review your interest rates and monthly payment before finalizing your loan. Applying will not hurt your credit score. To get started, all you need to provide is how much you wish to borrow, what repayment period you prefer, and your estimated credit score.