Loans for military spouses and families.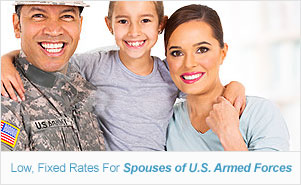 Can spouses of a veteran, reservist, or active duty military member apply for a military loan at MilitaryFinancial.com? Yes, if you're a military spouse or partner, you are eligible to apply for a military loan. Military spousal loans provide cash when you need it. In as little as 3 days, you can have money to pay for car repairs, monthly mortgage, kitchen appliances, or even a well-deserved cruise to the Bahamas. A loan for military spouses and their dependents doesn't have restrictions on how you can use the money, so you can spend your money however you wish.
Military spouses and dependents can apply for a military loan at MilitaryFinancial.com

Start Loan Application »
With a military loan, you can cover your bills without digging yourself into a bigger financial hole. Loans for military spouses provide fair rates and terms offered specifically to military families. Let's be honest, military lifestyle differs from civilian life. Families often deal with spontaneous relocation, unplanned deployments, and finding new schools for their children. This often hectic lifestyle can make it difficult to keep personal finances in check. Utilizing a military loan can maintain or raise your credit score and potentially offer your credit score a boost.
At Military-Financal, military spouses are encouraged to apply. You're free to use the convenient online loan application anytime and anywhere.