How can I use a military travel loan?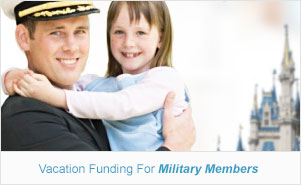 As a military member, is it time to be stationed at a new base, or even travel to a destination of your choosing? If you are ready for a vacation, then plan the trip, grab the family, and get on the road. Don't allow lack of financing to stop you. Applying for a military travel loan can get you the money to pay for all your travel expenses.
Whether you need financing for plane tickets, a beach house, eating out, or the whole trip, a loan for military travel makes your travel plans affordable. By applying at MilitaryFinancial.com, your military travel loan is customized to fit your financial needs.
Use a military travel loan to take a vacation, pay for travel expenses, or cover relocation costs not covered by Dislocation Allowance (DLA).

Start Loan Application »
With credit services aimed at financing military members, applying for a military travel loan at MilitaryFinancial.com is your best financial solution. Apply today and take the vacation you deserve!
Frequently Asked Questions about Military Travel Loans
Does a military travel loan cover expenses such as gas, food, and hotel expenses?
All that and more! A military travel loan can pay for all your vacation expenses.
When will I receive the money?
Since the application process is 100% online, your military travel loan can be approved and money transferred to your bank account within 2 days!
What are the benefits of applying for a military travel loan vs. other types of loans?
A military travel loan offers fixed interest rates and manageable payment options, so you can begin your vacation planning sooner and receive the best prices on travel arrangements.