Military Loans
/ Veterans
Are there military loans for veterans?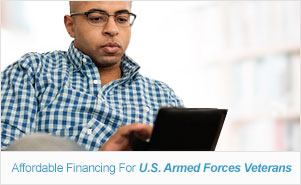 Whether your a veteran or career retired from the U.S. military, you may find it difficult to adjusting to civilian life - especially if you have poor credit history. MilitaryFinancial.com offers affordable veteran loan options, giving you the financial support the heroes of this nation deserve. If you are a military veteran, you qualify to apply for a veteran military loan featuring low fixed interest rates with upfront terms (and loan lengths of your choosing). A military loan for veterans finances anything from paying off your credit card bills to starting a new business.
Special loans for veterans of the US Armed Forces are available at VAFinancial.com.

Start Loan Application »
Since you served our country selflessly, you deserve to apply for a low, fixed rate unsecured personal loan to fund your new life's costs. Apply online using the fast and free application process and receive funds in no time.
Paperless Application
The entire loan application process takes place online.
100% Confidential
Your identity and financial information are protected.
Flexible Payments
Flexible loan terms ensure payments you can afford.
Get Started Now »
Frequently Asked Questions about Veteran Military Loans
What can I purchase or pay for using a veteran military loan?
Anything! Whether you need to buy a car or pay bills, a veteran military loan from MilitaryFinancial.com covers the costs.
Am I eligible for a veteran military loan?
If you have served 181 days during peacetime or 90 days during wartime active duty, 6 years in the Reserves or National Guard, or are a spouse of a service member who died while in service, you are eligible to apply for a veteran military loan.
Why are veteran military loans better than a tradition bank loans?
Veteran military loans offer low interest rates and flexible payment terms – simply, a more attractive option than a traditional bank loan.
To begin, please select your current military status.