A Credit Card for Active and Retired Military Members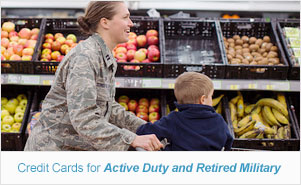 For current military members and veterans, using a military credit card responsibly can help gradually build your credit history and effectively raise your credit score. Also, this credit card provides special benefits for active duty military members. Receive a 4% interest rate on your balance during deployment and PCS for up to a year, a 4% SCRA rate on existing balances from before you entered active duty, and no transaction fees on overseas purchases. If you switch your preferred payment type from cash to a credit card and practice financial accountability, a credit card is one of the fastest and easiest ways to improve your creditworthiness with loan providers and other creditors. Soldiers from all branches and all ranks can use this military credit card for daily expenses like food, gas, groceries, or travel.
Apply for a Military Credit Card
Having a line of credit always available can offer you financial stability. With a military credit card, many active duty and retired servicemembers and their families can receive more benefits than if they used only cash. Apply for a military credit card now.
Paperless Application
The entire card application process takes place online.
100% Confidential
Your identity and financial information are protected.
Card Eligibility
If you or your spouse have ever served, you can apply.
Get Started Now »
To begin, please select your current military status.