Learn About Our Online Military Checking Accounts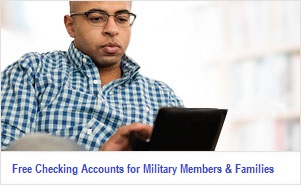 If you, your spouse, or an immediate family member have ever served in any branch of the United States Armed Forces, you qualify to open a free, no-fee online military checking account. There are no minimum balance requirements, no onerous monthly activity (or inactivity) fees, and you can access your account, online, 24 hours a day. Plus, get instant access to your cash from over 60,000 ATM's worldwide. Our most popular account feature is being credited your pay early - up to one full day - when DFAS sends notice that your pay deposit is on the way - instead of having to wait a day or two for DFAS to direct deposit.
Unlike most regular banks, MilitaryFinancial understands the unique circumstances often faced by military members and military families, including difficulties with an address that may frequently change, as well as the inability to get to a physical bank branch to do your banking. That's why we're offering an entirely online checking account experience. You can login to your checking account to bank via internet or cellphone from any location, at any time. You can even deposit paper checks by taking smartphone photos! And, of course, it's always nice to get paid a day early!
The MilitaryFinancial.com military checking account application process is 100% online with full, bank-industry level security.

Open a Military Checking Account »
Frequently Asked Questions about Military Checking Accounts
Who qualifies to open a MilitaryFinancial military checking account?
Both current members and honorably discharged separated members of any branch of the Armed Forces are eligible to open a checking account. Additionally, military spouses and military dependents (including family members of any current or separated servicemember), are also eligible to open a no-fee military checking account.
Will I be issued a debit card or ATM card with my military checking account?
Yes, each military checking account comes with a debit card which can be used for purchases, online or in-person, similar to most credit cards. The debit card will also function as an ATM card and will allow you (with use of your secret PIN) to check your account balance or withdraw cash. Each debit/ATM card has chip-enabled security.